Linda Byerline, owner and operator of Happy Heiny's, has a lot to be proud of these days. Not only has her Happy Heiny brand become wildly popular in the world of cloth diapering and natural parenting, she is fulfilling another life-long dream, opening her first Brick & Mortar Retail Store Baby Frenzy.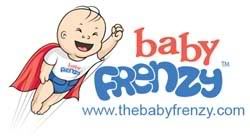 Baby Frenzy, located at 1529 Cuyamaca Street, El Cajon, will of course feature Happy Heiny & Stacinator brand cloth diapers and accessories, but it will also carry clothing, furniture, wooden toys, and other natural parenting gear.
That's not all, Linda was also recently nominated for the The Stevie Woman in Business Awards. Out of over 800 executives in her business category, Linda won 1st Place! She is also currently a finalist for Working Woman Magazine Entrepreneur of the Year.
So, if you are in the San Diego area be sure to stop in and check out Baby Frenzy. For online purchases, Happy Heiny's products will still be sold exclusively through Linda's many retailers.
Official Press Release
El Cajon Gets Happy Heiny's
Local Cloth Diaper Manufacturer Opens First Retail Store
San Diego, Calif. – Nov 27, 2007 – Happy Heiny's, one of the largest manufactures of modern reusable cloth diapers, is opening its first retail store on Wed Dec 5, 2007 in El Cajon, (1529 N. Cuyamaca Street), offering San Diego residents access to fashionable and dependable diaper products.
Owned and operated by a San Diego "mompreneur," Happy Heiny's has been a leader in the cloth diaper world for more than five years. The store will sell Happy Heiny's full range of environmentally safe, economical cloth diapering products for infants, toddlers, bed-wetters and adults worldwide in addition to products like all-natural wooden toys, heirloom cradles and specialty handmade children's furniture.
"This store opening is a proud and monumental moment for a family business that evolved from sewing diapers to fit my youngest daughter," said Linda Byerline, president and founder of Happy Heiny's. "The high demand for our products has warranted the opening of a storefront and is an exciting next step for our business."
The store will also be a resource for new parents offering classes in breastfeeding, cloth diapers along with mom-to-mom socials. The classes and socials are scheduled to begin in January 2008 and will be open to the public and free.
"As a mother of three, I pride myself on providing products moms love to use," said Byerline. "In keeping with our emphasis on being a family-owned business, employees in the store will be moms that are able to bring their children to work with them. This is especially important to me as I know how quickly children grow up and how precious each moment of childhood is to a parent."
Happy Heiny's products and cloth diapers are made of luxuriously soft, custom-milled fleece with no dioxins, thus reducing baby rash. The fanciful and trendy printed Pocket Diapers are convenient accessories for stylish babies—parents can easily slip one on and make an instant fashion statement for their little ones. The store will also feature the popular One Size Diaper that fits most babies, 8-35 pounds. Available in a variety of gorgeous colors and prints, luxurious textures and fabrics, including hemp and wool, Happy Heiny's are also recyclable and can be used thousands of times – so they're perfect for eco-conscious moms or moms planning on more children.
Up until now, Happy Heiny's eco-friendly products were only found online and in the more than 300 retailers. The products are also distributed internationally to South Korea, Israel, Italy, Singapore, United Kingdom, Canada and Australia, among others. This is the first official Happy Heiny's store.
Author, Julia Clark-Owner of Earth Angels Diaper Co. and WAHM to 3 kids, 4 yr old Guinnevere, and 1 yr old identical twin sons Mason & Spencer