Many American cloth diapering moms may not give much thought as to the diapering trends in other countries, but the truth is that Cloth Diapering is making it's comeback all around the world.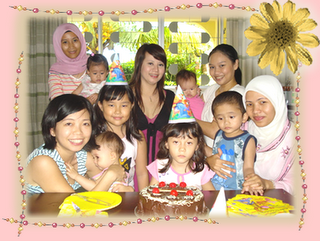 Sandra Rocco, a cloth diapering mother and the owner of MiaBambina, a Malaysian based online Cloth Diaper Store, witnesses first-hand as cloth diaper use in Malaysia is catching on and becoming "trendy" much like it is here in the States. Sandra says that Pocket Diapers such as DryBee's and BumGenius, which happen to be her favorites, are popular because they are easy to use, come in bright colors and prints, and do not take long to dry. Clothes Dryer's are not as common in Malaysia as they are in the USA, so diapers that dry quickly are very popular.
Sandra also points out that in many Malaysian households Mother-in-law's play a large part in caring for the family's children. Therefore, their opinions, experiences, and prior use of cloth diapers impact the choices each family makes.
One of Sandra's customers and friend, Taty Mohd Yasin, says she's addicted to cloth diapers! She began using cloth diapers because they were better for the environment and to save money. Her favorite brands are DryBee's and GAD Pocket Diapers because of the prints and quick dry time. Taty admits that when she first starting using cloth diapers she tried using pocket diapers and did not know that they required inserts and ended up with some really leaky diapers. Taty and Sandra recently attended a Cloth Diaper Moms Gathering where they met with other local CD moms in their area.
Although there may not be as large of a variety of cloth diapers to choose from in Malaysia as there are in the US, you can rest assured that when moms catch the "fever" and become addicted to cloth, no matter what country they are in they will find a way to get their hands on some seriously cute fluff!
Check out Sandra's store Mia Bambina to see what the cloth diaper trends are in Malaysia.

Written by Julia Clark, Earth Angels Diaper Co